Masterchef Australia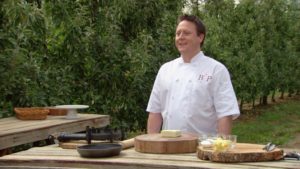 On Thursday 5th of June 2014 at 7:30pm on Channel Ten. Staples Apple Orchard played host to the Masterclass on Masterchef Australia. This sticky and sweet Masterclass was conduct by Darren Purchese From Burch&Purchese Sweet Studio in South Yarra. Sarah, Kira, Tracey and Sam who won the night market challenge were the four lucky contests to have this special sticky and sweet dessert Masterclass with Darren. During this Masterclass Darren Purchase got them to help and showed them how to make his delicious Apple Tarte Tatin using our fresh Gala Apples that the contestants had picked in our orchard and brought to him to use. During this Masterclass he explains the steps and procedure on how to make his Tarte Tatin. He was not able to show how to make his puff pastry that he used as he did not have enough time but it is available from the masterchef website here. He shows you how to make the pastry come up nice and crispy.


Before he assembles it he uses a variety of spices to enhance the flavours. He cooks it on an open flame and explains even though it's not for five-star five dining the flavours are still that for him. The tart takes about 10-15 minutes on the flame to caramelise the syrup to a golden colour once that is up. Darren explains it takes about 20 minutes in the oven to cook and then it can be turned out. Once it has cooled down otherwise it will stick to the pan and not flip out due to it is being rather hot because of the caramel sauce that has soaked into the apples.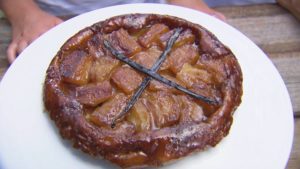 For Darren Purchese Apple Tarte Tartin you can view it here from the Masterchef Australia <a href="http://tenplay.com.au/channel-ten/masterchef/recipes/apple-tarte-tartin
">website</a> otherwise you can watch the episode <a href="http://tenplay.com.au/channel-ten/masterchef/season-6/episode-23
"> here</a>.