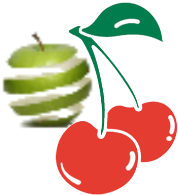 History
The history of the Mornington Peninsula runs deep through the veins of Audrey and Richard Staples whose descendants date back to the late 1800s. Today, alongside their son, Glenn, Staples Apples has established itself as a household name and friend to locals in the Mornington Peninsula region.
After travelling through Europe and the United States, Richard and Audrey made some developments to the orchard, primarily choosing to start close planting, which has resulted in great success for the business. With members of the family regularly travelling to seek out new innovations for the orchard, the quality of fruit has gone from strength to strength, particularly due to the netting completely covering the trees that prevents hail damage and sunburn.
When the time of harvest dawns upon the Mornington Peninsula, the blend of culture runs thick through the Staples orchard, with the pickers' origins as numerous as the trees they collect from. "It makes the harvest session a pleasant environment to work and exchange ideas," Audrey said.
The orchard hosts a variety of apples including Gala, Golden Delicious, Fuji, Pink Lady and Granny Smith. To please their older customers a few of the increasingly niche variety of Jonathan apples are grown, however Fuji and Pink Lady still remain their most popular. As well as the apples the Staples family is famous for, the expanding orchard also has the increasingly popular cherries, available from December through to January.
The orchard itself has a history of 60 years when Richard first purchased the property in 1953 planting three orchards on the same land. Glenn has taken on the toil that Richard began, with intentions to expand into planting new varieties as the need arises. The last ten years Staples Apples has invited you to their home with the inclusion of gate sales in response to the increase of tourism to the region.
To sample what this crop has to offer, take a trip through the Mornington Peninsula hinterland, and wind your way through the picturesque valley adorned with trees overhanging the road. You will be sure to not leave empty-handed, as Staples Apples best marketing tool is the product itself.
"Tastings are an essential part of sales," Audrey said.
Never fear, if you are unable to make the trip down to the farm, which, if you pick the season right, boasts an abundance of red and pink hues, as well as large wooden crates brimming with a bounty of fruit. Many specialty shops and supermarkets proudly stock a supply of iconic Staples Apples.